Canadian Hindu Foundation's FREE FOOD DRIVE FOR HOMELESS in Surrey at minus 11 degree Celsius
Surrey (British Columbia, Canada) :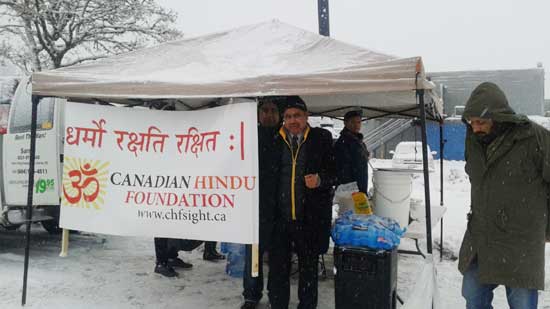 The weather in British Columbia was chilled, snowy and inclement. But it was our turn to give back to the community. The temperature was minus eleven and feels like minus 21 with wind-chill. Free food drive for foodless, homeless and shelter-less was scheduled. The brave volunteers of the Canadian Hindu Foundation (B.C.) Canada dared to go for the event as per scheduled time and place. The event started at 1:00 p.m. at 135 street and 106A avenue, Surrey, near Legion Head-Quarters Surrey. The Indian delicacies like Chick-peas (Chana), rice, Samosa, Hot- chocolate and dessert were served. The water bottles were distributed. The food served was sufficient for 300 people. Finally at about 4:00 p.m. the leftover food items were handed over to the nearby shelter-home, run by the Surrey Administration. The Police, Ambulance and By-law enforcement officers passing through the streets much appreciated the effort, particularly in that inclement weather. The food was made hot on the spot. Hot chocolate was also prepared on the spot and served. It was relished by all people, belonging to different caste, creed and religions. It was true multi-cultural event, like seven colors of rainbow. Canadian Hindu Foundation (C.H.F.) directors Mr. Ashwani Kalia, Mr. Raj Sharma, Mr. Rajesh Veauli, Mr. Rajiv Soni, Mr. Satinder Joshi and Ashwani Kumar Sharma decided on the spot to make this event a regular feature of our organization.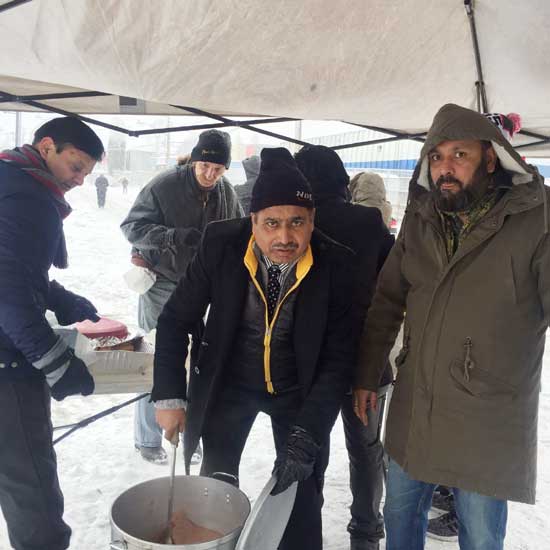 The availability of the woolen clothing, fur jackets, quilts, blanket and socks were announced at the spot. These woolen items were distributed on demand by the people.
SUPPORT OF OUR VOLUNTEERS Ms. Monika Soni, Vaibhav Soni, Navin and Gaurav were amongst our regular volunteers. Mr. Ajay Rampal, Sonia Rampal and their 11 year old son Aseem Rampal showed their solidarity by joining the organization and by making them physically present on the spot. Mr. Avnish Jolly from Winnipeg was constantly in touch with us during the event.
AN APPEAL Canadian Hindu Foundation (C.H.F.) extends this appeal to the community at large to support this cause on regular basis. Kindly donate generously and get blessings of the almighty God. Anybody can contribute by donating money, food and clothing.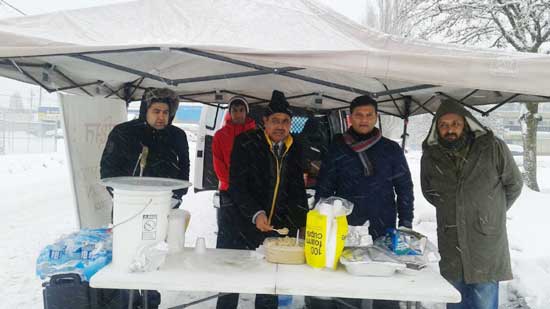 Media spokes-person Mr. Ashwani Kumar Sharma looks forward for whole-hearted support. Popular Quote, "SERVICE TO HUMANITY IS THE SERVICE TO GOD." RAM MANDIR (TEMPLE) SURREY IS SOURCE OF INSPIRATION FOR US Canadian Hindu Foundation